There are not many festivals that welcome you with a bowl of oatmeal. But one this weekend does just that.
The Bertram/Oatmeal Festival is a two day annual event held in Bertram/Oatmeal, Texas every Labor Day weekend.
It is staged to honor Oatmeal, the community and the cereal.
Oatmeal is an unincorporated community along RM 243, approximately approximately eight miles southeast of Brunet and 56 miles (90 km) northwest of Austin.
Local legend has it that the area's first settlers were German families during the late 1840s. The community's name is either an alteration of a Mr. Othneil – the area's first gristmill owner, or a supposed translation of the name Habermill (Haber being a German word for Hafer, "oats"). A post office was established in 1853 under the name Oatmeal. The first schoolhouse opened in 1858, only to be replaced by a second building eleven years later. A gin built in the 1870s continued to serve as a local landmark into the early 1900s. A cemetery was deeded in 1871, although burials were recorded in the area as early as 1854.
In 1936, Oatmeal had a school, two churches, and scattered dwellings. By 1990, the population was around twenty – consisting mostly of families engaged in farming and ranching. That figure remained the same in 2000.
Oatmeal's watertower is painted to resemble a box of oatmeal.
Since 1978, the community of Oatmeal and the nearby city of Bertram have celebrated an annual Oatmeal Festival. Ken Odiorne, a local resident, started the tradition by writing to the major producers of oatmeal at the time to ask for assistance. Only one company, National Oats, responded.
The Oatmeal Festival has played a significant role in the continued notoriety and existence of Oatmeal, Burnet County's second oldest community.
The weekend features family fun, food and what is described as "a whole lot of foolishness".
A traditional highlight is the offering of a bowl of oatmeal at the start of the festival on Friday.
Friday's other activities include, Art & Craft Fair, BBQ Supper, Miss Oatmeal Pageant and Auction, and live music provided by Eddie Shell and The Not Guilties. The festival fun continues on Saturday, relocating to downtown Bertram for the Pet Parade and the Grand Parade, Arts & Crafts fair and a Street Dance lead by People's Choice.  Registration for all festival events is going on now! Visit www.oatmealfestival.com to apply or print and mail your application to: Oatmeal Festival, PO Box 70, Bertram, TX 78605
In addition to the festival itself,  the Austin Steam Train Association offers special excursions to the event.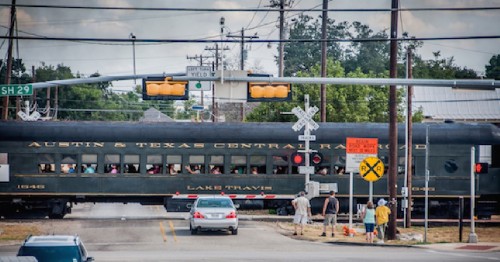 Share
Follow