Thanks for the heads-up by Dave Stubbs.
Howie Morenz was born on this day (September 21) 100 years ago.
Morenz was considered one of the first stars of the NHL and of the Montreal Canadiens. He played 14 seasons in the league, was a member of a Stanley Cup winning  team three times, all with Canadiens. During his NHL career he placed in the top 10 leading scorers ten times. For seven straight seasons, Morenz led Canadiens in both golas scored and points. Three times in his career he was named the most valuable player of the league, and he led the league once in goals scored and twice in points scored. He was named to the NHL All-Star Team three times.
Morenz died from complications of a broken leg, an injury he suffered in a game.
Morenz's funeral was held on March 11, 1937, at the Montreal Forum. Fans were allowed to file past the casket, laid at center ice, and fifty thousand people paid their respects. A rotating guard of honour of four Canadiens stood around the casket, covered in flowers including a large wreath from Aurèle Joliat that was shaped like the number 7, Morenz's number, and a note from Morenz's three children. The entire service was broadcast on the radio, and after its conclusion he was buried in Mount Royal Cemetery in Montreal.
The day remains of signature moment in Canadiens' history and in hockey lore.
After his death, the Canadiens retired his jersey number, the first time the team had done so for any player. When the Hockey Hall of Fame opened in 1945, Morenz was one of the original nine inductees. In 1950, the Canaian Press  named him the best ice hockey player of the first half of the 20th century.
Today, on this centennial of his birth,  along with the likes of the Patricks, Richards, Vezina, Harvey, Believeau, Clancy, Hull, Howe, Orr, and Gretzky, Howie Morenz he remains a legend of hockey.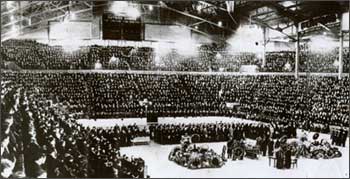 Share
Follow