OK – I knew it would be only a matter of time before I would have to start wading diplomatically among various municipal claims of civic pride. After all, I had some experience navigating among various U.S. claims of communities touting themselves as the "BBQ Capital of America" or "Pie Capital" or some similar designation.
So it should be no surprise after doing a feature on the "Dairy Capital of Canada" to discover that there is a "Cheese Capital of Canada" as well.
The designation of "Cheese Capital of Canada is on the books at  the database of the Canadian Intellectual Property Office. Over the past century, more than 80 cheese factories dotted our countryside.  But over time, manufacturing and the economy changed reducing the need.  While interest in small-scale cheese-making seems to be rising, including artisan cheese, there are only two cheese factories in operation today: Ivanhoe Cheese and Maple Dale Cheese.
So even though the title "belongs" to Hastings County, it appears that Oxford County has little to be concerned about. In fact,  if one talks of creating a record of the past, such a record can be chronicled at the Ingresoll Cheese Factory Museum between Woodstock and London, which chronicles Ingersoll's heyday as the Cheese Capital of Oxford County, a place already designated as Dairy Capital of Canada.
If all of this is not confusing enough contempklate this history courtesy of the —- website. It tells us that the start of cheesemaking in Canada from the first introduction of cattle by Samuel de Champlain at Québec in either 1608 or 1610.
But this history also tells us that the "British" strand of cheese-making  came to Canada courtesy of loyalists fleeing the American Revolution, introducing to Canada to the distinctly British characteristics of Cheddar. And, these folks, that history tells us made their home in Norwich, in Oxford County. The first Canadian cheese factory, "The Pioneer" opened in Norwich, Ontario, in 1864.
Back in Hastings County, interest in small-scale cheese-making is beginning to make a comeback. They are a founding and active member of the new Invest in Cheese marketing initiative and have branded their area as Ontario's Artisan Cheese Region.
Stay tuned – in all it's a lot of fun for those of us seeking a good piece of local cheese.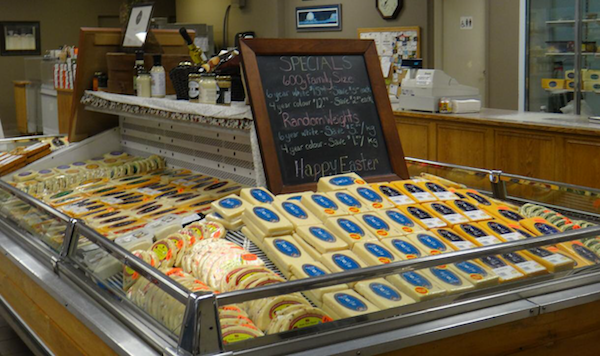 Share
Follow